nadiaa: IF it was a chart from astro.com, there is a provision there when you create the chart on that page to click "anonymous".
Its on the bottom of the page where the size of the chart is chosen:
anonymised drawing (without name)
adjust planet position marks
Then of course you can always choose to cut off the name and other info like this: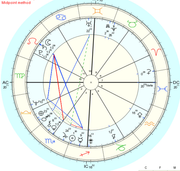 __________________
Some kindle eBooks on the subject of astrology, fixed stars and critical degrees. PM me for details...