Quote:
Originally Posted by
JUPITERASC
keep in mind that conjunctions to fixed stars are only noticeable

when conjunct by LATITUDE and/or DECLINATION
and not solely by Longitude
"additional tables pdf" above top left of astro.com chart
provide latitude as well as declination and longitude
i.e.

although longitudinal conjunction only is accepted by modernist astrologers
fixed star "conjunction" is in fact not entirely longitudinal
because
majority of fixed stars are BEYOND the ECLIPTIC aka apparent path of the Sun
and
to have any notable influence natally
fixed stars require "conjunction" by LATITUDE and/or DECLINATION as well as longitude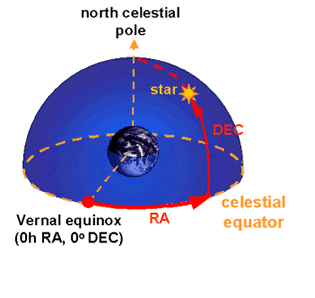 MORE DETAILED DIAGRAM OF EQUATORIAL CO-ORDINATE SYSTEM
Hi JUPITERASC. I really appreciate your help in regard to my inquiry about Algol. I've been trying to understand how to take into account both the latitude and declination of my Algol placement. I found a very helpful article
http://www.astrologysoftware.com/res...icle.asp?ID=33
(This is an excerpt from the article)
Out of Bounds Planets
"
When planets exceed this 23°27' area, north or south, they are called "out of bounds." Kt Boehrer interprets this as a planetary energy which is outside the ordinary. The Sun, of course, never goes "out of bounds", but sets the boundaries. Planets moving along or crossing this 23°27' tropical boundary line seem to denote extra significance, as do planets moving along the celestial equator (0°).
The activity of the Sun is most powerful within these demarcations known as the Tropics of Cancer and Capricorn. Planets with declinations outside this path are perhaps not challenged by the strength of the Sun and can operate more independently. Perhaps we could also say that the planet cannot express itself along normally accepted lines
"
These are the coordinates of my natal Sun and Natal Algol (Both in the 7th):
*Algol -
LONGITUDE
26°11'22"
LATITUDE
22°25'44" N
DECLINATION
40°57'43" N
---------------------------------------
*Sun -
LONGITUDE
24° 1' 4"
LATITUDE
0° 0' 0" N
DECLINATON
18°46'37" N
I was wondering if you could help me decipher the latitudinal and declination coordinates, since you seem to understand how those work in regards to the affect they have in conjunction.