Hello everyone!
Call me MoJo, it's actually what friends call me, but I doubt I really have any mojo at all.
Just wanted to introduce myself, as I am very new to the boards and to astrology in general. I've always been interested, mostly due perhaps to my Sun being in Scorpio, but I've never really investigated it much until now.
I've seen the Greenhorns Lounge, but I was wondering if there were some thread with all the general terms for astrology (trine, node, etc.) that I may have missed there, as I really have no clue what many of them mean.
It would be of great help! Thank you!
Also, here is my Natal Chart, if any of you would be kind to perhaps give me an brief analysis of it, I would greatly appreciate it. But, it is not necessary. Thanks again.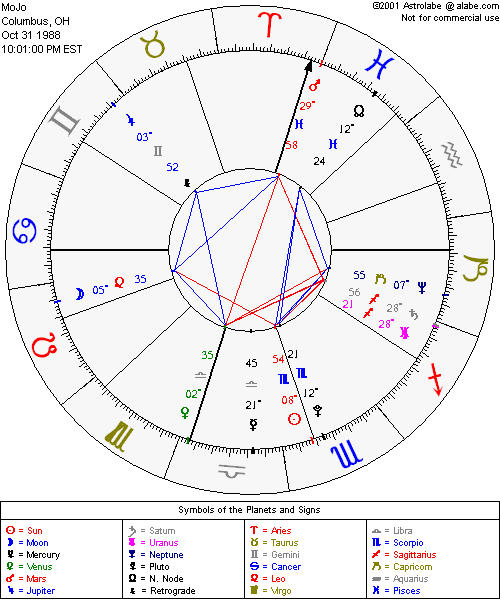 Also, just a curious question. I was wondering if there was some reason that when I find myself attracted to guys, they are usually a Leo or Gemini? I'm sure there must be an astrological reason, just curious as to why. =/