Hello everyone,
I thought I would post this chart for my ongoing car sale for educational purposes. Though the events surrounding this chart have not concluded yet, the chart itself seems pretty clear on what can and will happen. We began negotiations on the car during the time of this chart, then we broke for lunch and are heading back to the dealership in just a moment. Just taking a quick look at the chart I could tell it was immensely descriptive of the situation and there are a lot of fun little interpretative things to take out of it, but let me catch you up on the story so far, it is quite short.
My husband and I were preapproved for a $20,000 auto loan, the paperwork on that is not complete as I have not yet been able to secure a second paycheck stub for the bank (I forgot to ask my HR people on Friday. There was a birthday party and cake and I am only human). Today we went looking at a reputable dealer's lot and found a couple of cars. I test drove one and was like "This is the one!" but my choleric nature often gets the better of me. This is the car we began negotiations for even though there was a second one I was interested in but hey, choleric nature.
However, before this can go another step further, the car must pass a particular test. As an avid kung fu practitioner, the car must be able to accommodate my seven-foot spear for transportation.
So, a couple of questions must be answered:
Will the spear fit?
How will the negotiations go?
Is the dealership honest?
What will the price be like?
In what condition is the car?
Are there any hidden problems I was not able to sniff out in my test drive and inspection?
How affordable will it all be?
Will I choose this car (Aveo) or my secondary choice (Passat) (I have not yet test driven it)?
I rendered the chart in my electional module just because it's easier to navigate. It is rendered in Regio houses and the dignity scores are there on the side for those who like them.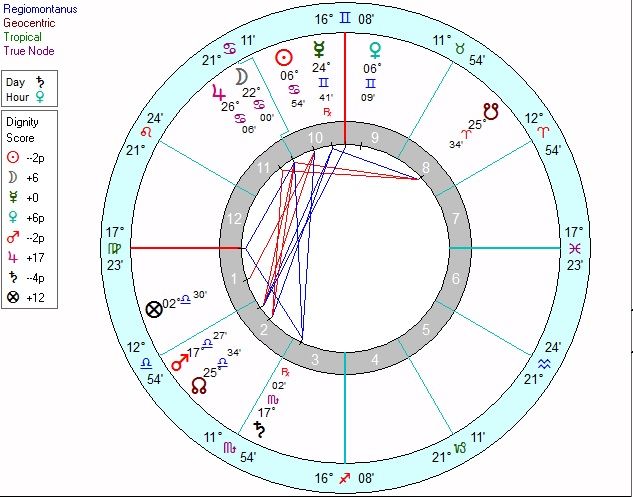 I wish the forum had spoiler tabs...