When will he give me Feedback if he could Image a relationship and how will be the ou
Hello everybody
Like my other Post about this guy.. i asked question when will he give Feedback if he could Image a relationship with me and how will be the outcome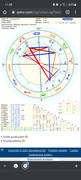 I think its that he is mercury. We started having love Affair round 2 month ago. (Sun / mercury connection), then he got got Problems at work.. (mercury opposition saturn)
Moon as Co significator is in his 3rd house and will make a sextil to mercury so he will be thinking about me and what we have talked?
But there is no connection to Venus (me). Only from moon to Venus.. so it may be a no?
I would be very happy about your help.
Best regards
Last edited: