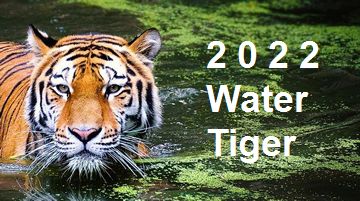 2022 is the Year of the Black Water Tiger. Chinese New Year Day is on February 1, 2022. It's the 4719th Chinese Year. But the Chinese New Year Day is not the first day of the Tiger year. 2022 of Chinese Astrology Water Tiger year starts on February 4, 2022, in the China timezone. The Chinese New Year is from Chinese Lunar Calendar and Chinese Horoscope uses the Chinese Astrology Calendar, which is a solar calendar.
Tiger contains Yang Wood, Yang Fire, and Yang Earth according the theory of the Five Elements. The Yang Wood of Tiger is a huge and tall tree, which can make a wooden boat. Water Tiger implies a boat flowing on the river. That is a sign of adventure, exploration, courage, and new life. The year of Tiger is a good year to start a new business or a new career. Traveling with Tiger is a risky journey. It's required well-prepared plannings in the year of Water Tiger. 2022 of Water Tiger contains Water, Wood, Fire, and Earth. It will bring good luck in career and wealth for most people.
The 2022 Chinese Zodiac Predictions for 12 animal signs
are in the following.
2022 CHINESE ZODIAC RAT PREDICTION
2022 CHINESE ZODIAC COW PREDICTION
2022 CHINESE ZODIAC TIGER PREDICTION
2022 CHINESE ZODIAC RABBIT PREDICTION
2022 CHINESE ZODIAC DRAGON PREDICTION
2022 CHINESE ZODIAC SNAKE PREDICTION

2022 CHINESE ZODIAC HORSE PREDICTION
2022 CHINESE ZODIAC SHEEP PREDICTION
2022 CHINESE ZODIAC MONKEY PREDICTION
2022 CHINESE ZODIAC CHICKEN PREDICTION
2022 CHINESE ZODIAC DOG PREDICTION
2022 CHINESE ZODIAC PIG PREDICTION
People Born in 2022 Year of Water Tiger – Characteristics and Traits
Last edited: